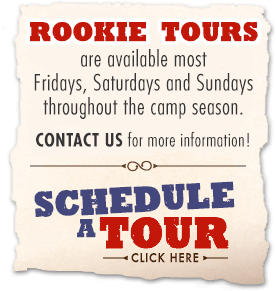 We are excited about your interest in Camps Equinunk & Blue Ridge! We understand the importance of choosing the right camp for you and your family. Many families find that visiting camp is an invaluable opportunity in deciding on the perfect fit for their family. We would love for you to join us for a visit and experience our warmth, spirit, and tradition while touring our state-of-the-art facilities that Camps Equinunk & Blue Ridge have to offer. We have two great touring options for your visit to CE/CBR:
Rookie Days:
We are excited to meet you and your family and learn about your interest in Camps Equinunk & Blue Ridge! Rookies will experience the fun and excitement of Equinunk or Blue Ridge during an action packed day of activities, program highlights, camp spirit and tradition! Parents will be greeted at our Welcome Centers upon arrival, meet with our directors and staff, and then go on a full tour of our campus, bunks, and facilities while meeting our directors and staff! Campers will enjoy lunch in our Mess Halls while parents are invited for our famous BBQ buffet! While your children stay and play in the afternoon, parents will spend their time exploring the varied attractions of Wayne County! Families with younger pre-camp aged children will have the opportunity to tour the respective brother or sister camps in the afternoon.
Schedule A Tour:
Throughout the summer on Fridays, Saturdays and Sundays Camps Equinunk & Blue Ridge offer Rookie Tours designed to show you everything CECBR has to offer! While parents will get a walk through of our campus and facilities with our directors and staff, prospective campers will get to experience the highlights with some of our Equinunk or Blue Ridge lifers!
To book your Rookie Day or Rookie Tour please contact our Winter Office by calling 631-329-3239.